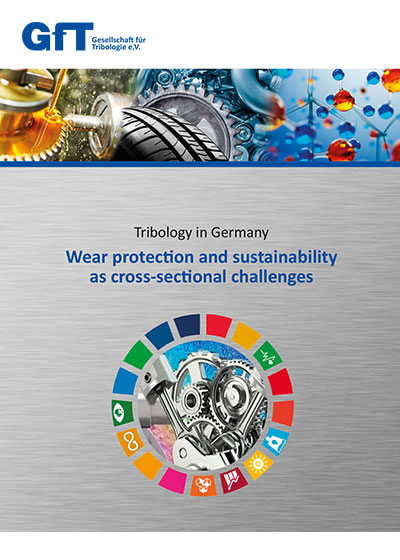 This second expert study "Sustainability and wear protection" was presented at its first online annual GfT conference end of September 2020. Compared to the CO2 issue, the public discourse perceives sustainable resources as only secondary in importance. Everyone is talking about global warming but the term sustainability remains vague. The new study by the Society for Tribology e.V. illuminates the misconceived relationships between wear protection and sustainability, as well as the resulting connection to CO2 emissions.
About this study
Whereas the study "Tribology in Germany – Cross-sectional technology for the reduction of CO2 emissions and the conservation of resources", published by the Gesellschaft für Tribologie e.V. in 2019, presented the interaction between the reduction of friction and CO2 emissions, the following study focuses on the contribution of wear protection for sustainability – a topic which has not made inroads into the public discourse. All findings are based on the 17 sustainability development goals (SDG) published by the United Nations in fall 2015.
Brief summary
Tribology offers minimum three wedges of significant CO2 reduction potentials by:
a. CO2 reduction through friction reduction (energy efficiency) and
b. Reduction of the material footprint (resource conservation, material efficiency).
A presumed savings potential of 30 – 40% of friction losses lowers the global CO2 emission by 2.66 – 4.93 gigatons of CO2 annually. Wear protection hypothetically doubling the overall life cycle and condition monitoring saves about 8.8 gigatons of estimated resources annually with an equivalent of > 1 ton of CO2eq per ton of resource/base material.
The addition of both results in medium- and long-term reduction potentials by tribology of 6-10 gigatons CO2 or 15-26% of the globally emitted 37.9 gigatons of CO2 emitted directly in 2019 or 0,6-1 gigatons of CO2 of the 3.76 gigatons of CO2 emitted in EU27 (without UK) in 2018.
Note: The reductions by wear protection extending service life and condition monitoring is currently difficult to estimate since the saved tonnages cannot so far be quantified and directly allocated to applications and end-uses with tribosystems or being affected by tribosystems. This requires further research.
There are the following amounts of material streams for 2017, which need further studies: a. 17.657 gigatons (derived from the U.N. Resources Outlook 2019 in this GfT study 2021), b. 9.120 gigatons of "metal ores" (U.N. Resources Outlook 2019), c. 10.1 gigatons of "metal ores" (Circularity Report 2020) and d. >6.634 gigatons of "engineering materials".
Further contents:
Sustainable development goals
Tribotronic
Longlife engine oils
Biolubes
Life cycle analysis (LCA)
Hydraulic oils
Predictive condition monitoring
Inline condition monitoring of lubricants
Oil identification system
Wedges
Material footprint
Material efficiency
Wear protection
Zero Wear
Smart fluids
Re-raffinates, re-refining
Wind energy plants, eolics
Fine dust, non-exhaust particulates
Brake
Tyres, tires
Machining
Stamping, tooling
Thin film sensors
Full version of study: English version
Please find here the German version.
Étude 2021 de la GfT «Développement durable et protection contre l'usure»
La version française est disponible chez Techniques de l´Ingénieur:
https://www.techniques-ingenieur.fr/base-documentaire/mecanique-th7/frottement-et-usure-42464210/developpement-durable-et-protection-contre-l-usure-tri142/
Sponsorships for translation